The offline advertising industry, however, is slowly but steadily catching up and getting on board with technological innovation, introducing technologies like geofencing and beacons to offer tracking and personalization that were deemed impossible in years past.
The domination of online media spend could be about to change thanks to a new take on an old classic: digital out-of-home (DOOH).
What Is Out-of-Home (OOH) Advertising?
Out-of-home (OOH) advertising is traditional (i.e. non-digital and non-programmatic) outdoor advertising. Also known as out-of-home media or outdoor media, OOH advertising is about messaging to consumers when they are in public places, commuting to work, waiting (e.g. in elevators), and in specific commercial locations.
Typical OOH formats include billboards, on-car ads, bus-stop shelters, etc.
Digital out-of-home (DOOH) is basically OOH powered up with AdTech – geofencing, tracking, retargeting, personalizing, attribution and measurement.
From OOH to DOOH
So what could digital-out-of-home allow us to achieve?
Well, imagine a world where billboards dynamically display ads targeted to each individual as they're walking past them. Imagine ads sold in real-time auctions dynamically, and displayed across the city (or country) in a matter of minutes. Imagine a world where outdoor real-time marketing is really real-time, and billboards change dynamically depending on the time of day or weather condition.
The transition may change the traditional out-of-home ad-buying process; DOOH, as opposed to OOH, reduces human intermediaries and slow, manual insertion orders. We are moving in the fast lane, driving towards a reality where machines are programmed to buy ads.
Here's what digital OOH has in store for us.
It's Already Happening
Considering the current state of advertising technology, the transition from OOH to DOOH is not only possible, but also inevitable from a business perspective. It's actually already under way and gaining momentum.
International OOH providers like Clear Channel Outdoor, Lamar and Outfront Media are currently heavily investing in new technology to enable DOOH in the streets.
Other examples of DOOH activity include:
These examples and numbers are truly impressive, but many advertisers still know relatively little about what DOOH is and how it works.
What Is Digital Out-of-Home (DOOH) Advertising?
Digital out-of-home (DOOH) advertising is one of the fastest growing forms of advertising today, specifically because it is in many ways very attractive. Case in point: it is completely resilient to some of the typical problems nagging online advertising.
DOOH offers some of the advantages of the technology used in online display advertising, such as targeting and enhanced traffic data, but at the same time it is completely immune to ad blockers, and OOH ads cannot be skipped by the user.
Also, DOOH requires a certain level of creativity to grab attention – something that has decreased over time with online display ads.
What Media-Buying Processes Are Possible With DOOH?
Admittedly, DOOH may be a little mystifying at first, but it's really a relatively simple concept. However, to get a better hold of the subject, it's still worth remembering the various media-buying methods known to the advertising industry:
RTB is an auction-based bidding protocol in which advertisers compete against each other to display ads to specific users. RTB offers a lot of capabilities and use of data as well as vast types of inventory, and is universally considered the most flexible model on the market.
Programmatic direct is a one-to-one media-buying process much akin to the traditional method whereby salespeople met with advertisers in person to strike a deal. It is a very similar model to the private marketplace (see below), with the exception that advertisers and publishers agree on specific inventory based on a fixed CPM.
Programmatic guaranteed (aka private marketplace or PMP) is an invite-only auction process in which just a handful of advertisers bid against one another to buy a publisher's inventory. This method is typically offered by publishers with more premium (i.e. coveted and expensive) inventory – think major media sites like Forbes, Wall Street Journal or The New York Times).
Non-programmatic guaranteed (direct) is a manual insertion process which requires maximum human effort, understanding client's needs, negotiating prices and planning the insertion order (IO), with tons of emails running back and forth. Inventory is sold at a fixed CPM rate. The inventory is "guaranteed" or "reserved" for the client. Sometimes, advertisers are required to pay a premium price in return for specific exposure conditions.
Read our previous post to learn more about the differences between these media-buying processes.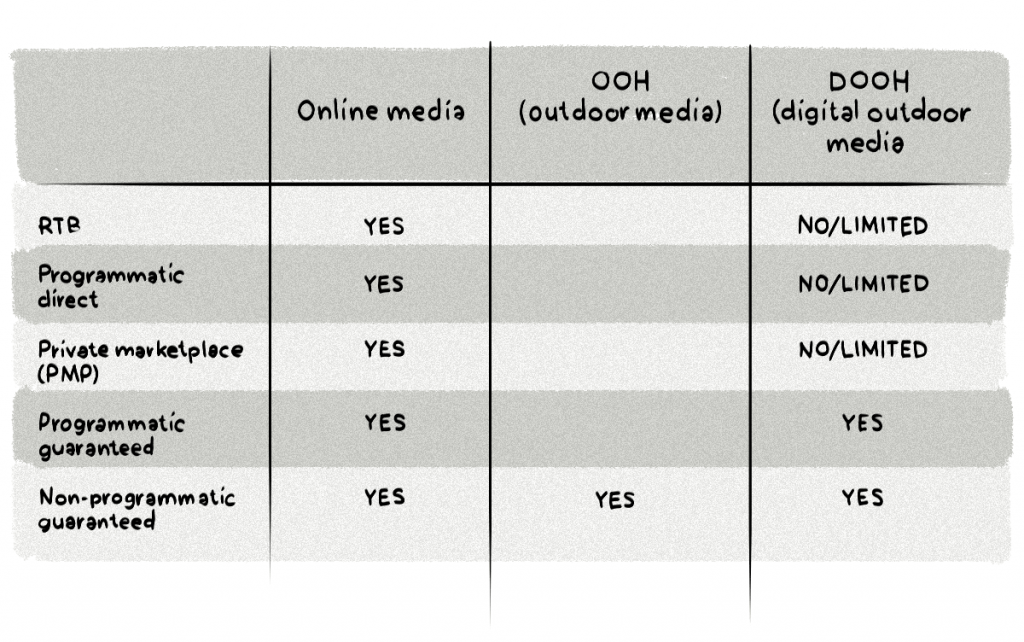 Problems With Digital OOH
DOOH media is not priced the same way as online ads
The pricing models and metrics of DOOH and programmatic are slightly different, and there are a few reasons for that.
First of all, to be an integral part of the programmatic ad-buying landscape and provide familiarity to advertisers and agencies, outdoor media sellers would have to convert to the cost-per mille (CPM) pricing model, which complicates things a bit seeing as one DOOH ad can be seen by multiple people.
Other pricing models common in DOOH include share of voice, whereby advertisers pay for a set percentage of the ad inventory of a given network of digital display, and loop frequency, where advertisers purchase multiple spots of a single loop.
DOOH viewability is currently harder to measure than online advertising
In DOOH, each impression can be seen by many pairs of eyes, but we never know the exact numbers, which makes it difficult to compare prices with digital impressions. While it is true that sellers, armed with mobile location data, can estimate traffic near a certain outdoor ad, it's only a ballpark figure.
The fact that a person was standing next to a board does not mean that they actually saw the ad, and attempts to incorporate facial recognition as a way to identify the gender and age of people has already experienced some fierce backlash.
But as the industry grows, it's likely that we'll see DOOH ads that incorporate some sort of facial recognition like the one below from Posterscope USA and partners Quividi, EYE Corp Media and Engage M1:
DOOH is physical (and premium) real estate
Because DOOH is physical media, it is also limited and should be more "premium". This is one of the reasons why DOOH providers are reluctant to make the transition and put the inventory on an RTB auction where it can go for peanuts.
DOOH inherently has a higher value than online media, which keeps the cost stable. Some fear that opening inventory to RTB will commoditize value and create a race to the bottom like it did in digital media.
Ad targeting, measurement and attribution is somewhat challenging
Again, because OOH ads are physical media operating in a one-to-many environment, there is no way to target individuals nor conduct advanced attribution as is done in the online world with cookies and device IDs.
DOOH ad targeting will likely involve reaching a certain demographic at a certain time based on data collected from the environment, rather than targeting individuals.
Similarly with attribution, marketers could simply look at the number of impressions an OOH ad received and compare it to conversions during all stages of a campaign.
The times of information and data collected for DOOH targeting and analytics varies, but typically include data from:
Ticket sales from concerts, sporting events, etc.
IR sensors placed near the entrances of buildings (e.g. shopping malls).
Third-party measurement companies, such as Nielsen.
Sensors and cameras from companies like Quividi.
Mobile location data from ad exchanges and data brokers.
DOOH campaigns can also be tied to weather and time-of-day data, such as showing an ad for soup on a cold afternoon.
However, as DOOH progresses, there will no doubt be improvements in targeting and attribution to help improve the effectiveness of digital out-of-home ad campaigns.
Under-demand and over-supply
Supply of digital out-of-home media is still much bigger than its demand, which would lead to underselling and underpricing of media.
Again, this is another reason why auctions are difficult to execute. A guaranteed (non-programmatic or programmatic direct) approach makes more sense here until demand grows to match supply.
Even if bigger demand and auctions were possible, they would still be hard to implement in real-time
When serving the ad, some lag time is necessary to pre-cache and load the creative, as creative formats are heavier than digital or mobile banners. This would make it more difficult to precisely target audiences.
What Is Possible With Digital Out-of-Home Today?
So what are the possibilities behind digital OOH?
In spite of all the challenges mentioned above, there are companies actively exploring the programmatic technology and implementing its variations in their digital out-of-home media offerings.
Here is a glimpse into some of its possibilities:
Targeting
While it is not possible to precisely target the ad specifically to just a select audience of a dozen people (and not a 100 random viewers), programmatic at least gives DOOH the possibility to display the ad at times when the target audience is most likely to see it, possibly offering huge efficiency gains and better deals on media.
Measurement
In digital, buyers follow cookies or device IDs to target an individual.
This is not that easy with digital OOH. Location data pulled from opted-in audiences is critical for executing advertising in DOOH – along with its planning, targeting and measurement.
Today, many OOH media sellers, buyers and vendors use mobile location data to measure DOOH media.
Tamoco, a data company that provides location-based advertising solutions, can help companies measure the effectiveness of DOOH ad campaigns by utilising a number of data points and sensors (e.g. GPS, Wi-FI, and bluetooth).
Other providers like Placed (a location-based data company currently owned by Snap, Inc., owner of the social app Snapchat) offer matching of location data of opted-in users with online advertisements and the success rate of these advertisements.
By tapping into their trove of user data, Snap, Inc. can track about 150 million devices' activity and see how the ads displayed across all their media translate to purchases.
One of Snap's cross-channel attribution capabilities was an early implementation of DOOH attribution. Its first working example was Snap to Store, which can attribute footfall in retail locations to ads displayed on its platform.
Retargeting
While targeting of ads on an individual basis is not possible with DOOH, it still allows effective mobile retargeting. For example, providers of OOH media can use geofencing, i.e. creating a virtual geographic boundary around a board using GPS or RFID technology (or both) to trigger a response when a mobile device enters or leaves the vicinity of a board.
This way they can send retargeted, personalized messages to each consumer who walked past the board. This is not science fiction – Clear Channel has been retargeting users on mobile through its Radar program since early last year.
Radar uses aggregated and anonymous, mobile data from privacy-compliant, third-party data providers to gain insights about where specific customer segments move around the city and offer the best DOOH locations to reach them.
Higher Ad Engagement
There's an opportunity for advertisers and agencies to capitalize on the initial opportunities offered by DOOH and use them to boost awareness and drive conversions.
Over the past decade, the engagement with online display ads has been on the decline, leading to click-through rates (CTRs) lower than 1%. This has been caused by a bombardment of online ads and given rise to software such as ad blockers and phenomenons such as banner blindness.
DOOH allows advertisers and agencies to unleash their creativeness and produce ad campaigns that are both unique and engaging. Some examples include:
Real-Life Applications
Outdoor media are working hard to best themselves in DOOH applications, and JCDecaux is one of the most prolific providers in this respect.
Transport for London
TFL promoted London's cycle hire scheme with a contextual campaign using many screens in the city. The displays offered directions to nearest docking stations, along with information about the number of bikes and spaces available.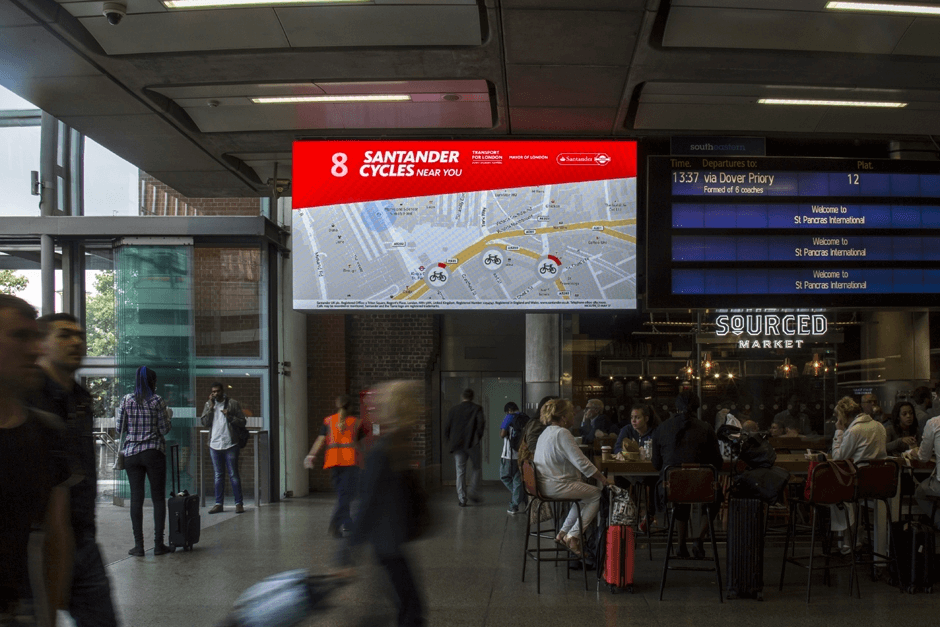 DOOH Screen in Elevators
Elevator interactions can be an awkward experience when you are in a restricted space with strangers and don't know where to look. A DOOH screen can be a great opportunity for the distraction of commuters meanwhile the local businesses have their chance to reach consumers.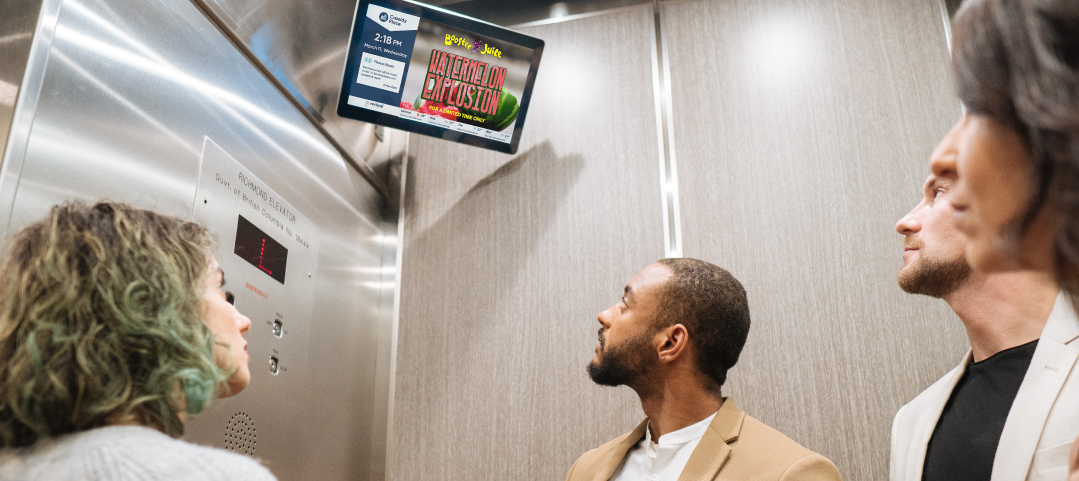 British Airways at London Heathrow
British Airways used live data feeds on flight arrivals to deliver a welcome message tailored to each baggage belt in the right language. It also suggested a London activity, based on current weather forecast.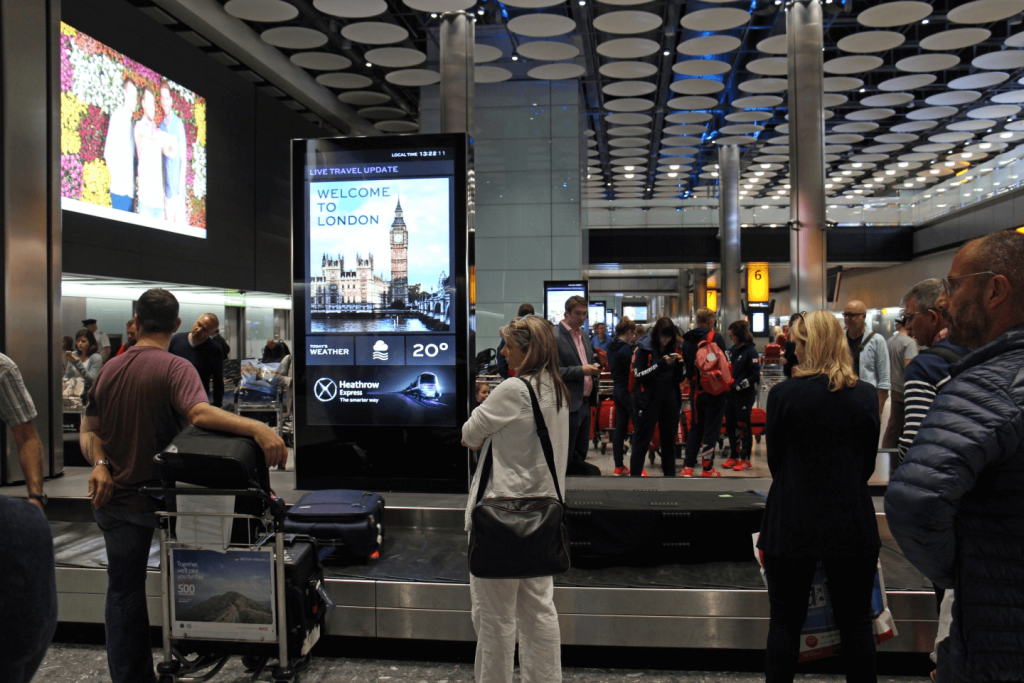 Live Content
As England went football crazy during the Euro 2016 matches, displays mounted on bus shelters had live content with up-to-date information about scores.
Weather Matters
Foodora is a food-delivery service which recently ran a DOOH campaign promoting its pickup option. Depending on various triggers like weather conditions, a relevant creative was displayed, encouraging audiences to pick up food at a nearby restaurant or order delivery when it rained.
What's the Future of DOOH?
The current implementations are just a glimpse of what will be possible with DOOH in the future. Operators of digital out-of-home advertising will soon try to best one another and offer the most reliable targeting and omni-channel capabilities – all made possible with technological innovation.