Trends, challenges, and opportunities are constants in the programmatic advertising industry.

The current trends in programmatic advertising are connected with the rise of connected TV (CTV) and over-the-top (OTT) advertising. But what impact have challenges like the COVID19 pandemic had on this space and what does the future hold for CTV and OTT advertising?

In part 2 of our CTV/OTT Advertising Interview Series, we once again turned to leaders in this space to get their thoughts on the current trends, challenges, and the future of CTV and OTT advertising.

Interviewees:

Anna McMichael— Head of Partnership at VlogBox
Jeffrey Johnson — Senior Director, Strategic Accounts, CTV Platform at Verve Group
Daniel Elad — Chief Strategy Officer at TheViewPoint
Paul Gubbins — VP, CTV Strategy at Publica
Joel Cox — Co-Founder at Strategus
Vanessa Delgado — Senior VP, Business Development at MetaX
Itay Droog — Account Development Director at Amobee

You can read part 1 of our series here.
What Are Some of the Main Challenges Facing CTV and OTT?
I would say the top 5 challenges in CTV and OTT are:
1. Ad Fraud
Just like many other programmatic markets, the CTV/OTT landscape is also subject to ad fraud. Even though these particular platforms demonstrate lower rates of ad fraud, the lack of ad quality regulations and standards still make them quite vulnerable.

Ad fraud schemes like DiCaprio, Monarch, ParrotTerra, ICEBUCKET, and others could potentially rob industry players of millions in profits. StreamScam for example, allowed fraudsters to steal over $14.5 million in ad spend before it was uncovered by Oracle Moat.
2. A Lack of Premium Supply
Many CTV and OTT publishers find themselves in a tight race against industry giants like Google, Apple, Facebook, and Amazon, which can seem virtually impossible to win for smaller business owners. The situation gets even more complex with the emergence of closed ecosystems (the so-called "walled gardens") and the growing market consolidation.
3. Mediators and Commissions
Due to the novelty of the CTV presence on the programmatic market, publishers often have to deal with numerous middlemen and, consequently, hidden fees. If there are many such mediators, these additional commissions can eat up a great portion of a supplier's potential revenue.

It is estimated that only 40% of ad spend at best is actually received by media owners due to the high number of intermediaries. At the same time, some marketers can still benefit from the novelty of the industry with 24% of them mentioning cost-effective CPM as the main reason for turning to CTV advertising.
4. High Market Fragmentation
Another challenge for CTV publishers is the high frequency of fragmentation around the industry. Each platform utilizes its own complicated algorithms in terms of categorizing and delivering content which can greatly impact visibility, as well as targeting accuracy.

To avoid problems arising from such fragmentation, it might be useful to stick to one platform or network that includes as many direct partnerships and versatile audiences as possible.
5. Difficulties With Measurement
CTV and OTT are nascent, which has resulted in a shallow inventory pool compared to app and web. With limited pools, demand partners have fierce competition for coveted users, driving up CPMs and leading to low use rates of bids for programmatic advertisers. With premium partners being sold out, advertisers may have to take a chance on lesser-known inventory pools. 

Measurement and the comparative lack of addressability compared to other programmatic channels are other issues currently facing CTV and OTT advertising, which, if not addressed with the right set of solutions, could inhibit further growth of the burgeoning industry.

Jeffrey Johnson 
Senior Director, Strategic Accounts, CTV Platform at Verve Group
What Are the Main Trends in the CTV and OTT Advertising Industry?
Since lockdowns were put in place, Connected TV has skyrocketed with billions of eyeballs binge-watching streaming content around the globe. Though this trend started in the US, it is also currently gaining traction in the EU, LATAM and APAC, where we see a lot of incoming requests from our potential clients. This will definitely prevail, as entertainment and sports industries have already shifted towards streaming. 
 
In the meantime, OTT platforms that had initially pursued subscription-based monetization models started either adding ad-supported features or leaning towards bundling. This is due to the fact that the number of streaming services has been steadily growing, leaving consumers thinking of more cost-effective ways to satisfy their appetite for content.
 
Speaking of the future of CTV ads, there's a lot more premium inventory coming to the programmatic pipes in 2021, since many established programmers as well as advertisers have discovered the benefits of header bidding and intelligent automation.

So, there's a high chance that the situation with the imbalance between supply and demand in CTV will improve eventually. Yet, this is likely to happen mainly through private marketplace and programmatic guaranteed deals.
 
As for the formats, today consumers are generally dealing with ad fatigue. Hence, it is getting harder to craft relationships and build genuine connections with target audiences. I believe we'll see more ad units with interactive games, quizzes, augmented reality elements, and shoppable QR-codes, which drive engagement and extend interactions with consumers beyond the ads' runtime. 
 
At the same time, in order to create memorable and personalized ad experiences, the industry will pay more attention to artificial intelligence (AI), be it automatic content recognition (ACR) in smart TVs or tailored content suggestions. Put simply, data will surely become more sophisticated and context-based, and our goal will be to help clients make the most of this. 

Daniel Elad
Chief Strategy Officer at TheViewPoint 

——————

There are several key trends shaping CTV at the moment and these are as follows:
The increased uptake of CTV unified auctions by publishers.
The rising adoption of server-side ad insertion (SSAI) by streaming apps.
The growing buy-side practice of supply path optimization (SPO).
Forrester/a> data shows smart TV penetration has reached 56% in the US, 63% in the UK, 57% in Australia, and 76% in China. This means the free ad-supported streaming TV (FAST) and ad-supported video on-demand (AVOD) publishers are seeing more interest from advertisers for their services than ever before to reach the growing number of TV audiences cutting the cord.
The practice of 'header bidding' has enabled streaming publishers overnight to increase the competition for their valuable inventory and audiences and this is why more and more are moving away from exclusive reseller agreements and sequential demand waterfalls. SSAI has not only proven to improve advertiser controls and users viewing experiences, but it is also now playing a key role in the eradication of bad actors in the CTV supply chain via initiatives such as Ads.cert 2.0 from the IAB Tech Lab that uses cryptographic signatures to verify genuine inventory. Expect to hear a lot more about the positive role SSAI is playing in CTV this year, for both the sell and buy sides.
This year, advertisers are expected to increase their CTV ad spend in the US by 48% year over year to top $13.4 billion and to spend $6.7 billion specifically on CTV ads purchased programmatically. This is going to create a lot of paths to supply, and a lot of opportunities for streaming publishers to capture these ad budgets. Supply-path optimization is a topic and buy-side trend we are going to hear a lot more about over the next 12 months.
I genuinely believe we are now at an inflection point where viewing habits across AVOD will drive parabolic growth in inventory liquidity. TV manufacturers are making it easier to discover AVOD apps and the consumer trend to engage with these free or inexpensive services will skyrocket this year.
The increase in inventory driven by header bidding will result in the practice of inventory reselling increasing and this is another reason smart buyers are now doubling down on SPO when it comes to building out their OTT buying strategies to ensure they can identify the best and most direct path to premium CTV publishers.
There has been a lot of speculation recently about CTV inventory scarcity in Q4 due to upfront buyers locking up BVOD supply. However, I often feel we are overlooking the real growth area of streaming and that is in the free ad-supported streaming space. The trend for consumers to seek out free streaming services post SVOD subscription fatigue is real and we are now seeing this trend play out globally. Paul Gubbins VP, CTV Strategy at Publica
How Has COVID-19 Impacted the CTV/OTT Industry?
We don't believe that Covid-19 has changed our industry, but it has undoubtedly accelerated it. 

When everybody was working or schooling from home, nearly 300 million Americans were within arm's reach of a smart TV. As expected, streaming services skyrocketed amongst users, and nowadays, the current usage is still much higher than it was pre-pandemic.

Also, Covid-19 has affected us as consumers as it accelerated the rate at which we streamed. However, it also accelerated many brands' and marketers' adoption of connected television since this is where the market is heading.

Joel Cox
Co-Founder at Strategus
What Are the Benefits of CTV & OTT Advertising for Brands?
We know that CTV is here to stay but it is questionable whether brands are already prepared for the evolution of the big screen.

There are many challenges in this new way of communicating with consumers, but the benefits surpass any obstacles, which will be overcome in a short time, like any other media.

Connected TV has the best features of online and offline, it is a powerful hybrid for brands that make the best strategic use of this channel and in the near future it will be the greatest digital hub in homes around the world.

It's also important for advertisers to understand how CTV plays with consumer analytics and lifestyle preferences. Behavioral, geolocation, social, verticals by interest, language, time, etc, provide opportunities for a better brand experience to a receptive and responsive audience that often pay closer attention than they do with traditional video advertising on other devices.

After all, it's on demand and consumed during time when users are more open to watching advertising.

The graph below shows video completion rates across different devices and environments: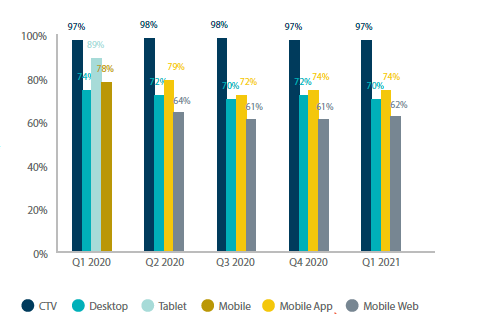 With the right CTV partner, advertisers can now rely more confidently on CTV to achieve more effective audience targeting and hit key metrics to increase results.

CTV is the best channel for brand awareness and engagement campaigns with the highest VCRs and average completion rates with 100% viewability. For conversion campaigns, CTV is growing fast and in mature markets CTV delivers massive CTRs, responses and conversions all with real-time tracking.

Not to mention benefits like more reach and better consumer experience as CTV has better sound, image quality and interactivity.

I also want to highlight two benefits that I consider very important: Time earned, which is exclusive to interactive ads, and the incremental number of seconds a consumer spends with interactive creative.

But it is way more important than that. Brands are competing for viewer attention and truth. It is flat nowadays, so advertisers have to deliver meaningful content that satisfies consumers' inspirations to really change the game and create brand lovers. CTV is the channel for that.

Another key benefit is the new creative possibilities that connected TV offers, which will change how audiences will engage with brands and promote brand advocacy. The IAB produced the CTV Creative Best Practices Guide, which is worth a read for anyone looking at making the most of the interactive and creative opportunities CTV has to offer.

Vanessa Delgado
Senior VP, Business Development at Metasoft

What Is the Future of CTV and OTT Advertising?
Nielsen's report has once again shown a decline in linear TV viewing this year, which can be summed up as both a cause and effect of broadcasters' investments in ATV & CTV streaming content – a respectable business strategy given the lucrative promise of digital monetization paths.

To make the most of this, premium content owners are actively seeking out new ways to unify, standardise and scale their inventory & data offerings, making them available for media buyers in attractive, but secured systems.

On the buy-side, the art of TV negotiations is now driven forward by the combination of art and science, as advertiser expectations for audience targeting and measurement are evolving from nice-to-haves to needs.

With the progression of new solutions for ATV and CTV ad buying arising in North America — who currently leads the global market in ATV ad spend — we expect the next wave of innovation to be replicated by European agencies in pursuit of unified access to scalable and measurable premium TV content. This unified solution would rectify the fragmented ecosystem of broadcaster offerings and tools that local and Pan-European buyers are forced to navigate today.

As such, it's unsurprising to see that this fragmentation has led to certain markets adopting programmatic practices faster than others.

However, we anticipate the future of ATV/CTV programmatic buying and selling as a shared ecospace, where European broadcasters offer exclusive access to premium TV audiences and inventory, at scale, through secured and approved PMPs.

This offers broadcasters control over data sharing, yet allows media buyers the ability to run addressable campaigns alongside all other digital formats and environments, with a scalable, cross-screen strategy.

This, of course, is no "off the shelf" solution and will require independent stakeholders, from both the buy and sell sides to come together and collaborate on these "secured gardens" where media buyers can discover and negotiate deals on newly available premium content.

Itay Droog
Account Development Director at Amobee