Gambling is called the 'game of chance' which usually evokes fun and entertainment along with the possibility of random luck. It is the practice of risking the loss of a given amount of money in hopes of winning an even bigger amount.
Although gambling has a rather negative connotation as it can lead to addiction and losing large sums of money, it's big business.

There are dozens of companies on the market that encourage people to try gambling by offering various betting platforms and online casino games.

In the past few years, gambling advertising has been growing steadily due to the development of online gambling platforms and the increase of mobile devices available on the market.

Key Points
Gambling advertising promotes various gambling activities by casinos, lotteries, bookmakers and other entities offering the chance to win a monetary prize or crypto currency.
Gambling advertising is available across different channels and mediums: video advertising, audio channels, newspapers, print and digital publications, DOOH & OOH, social media, in-app & in games.
The goal of gambling ads is to encourage people to try gambling or gamble more.
The gambling market is expected to grow from $465 billion in 2020 to $674 billion in 2025 at a CAGR of 7.7%.
More than 440 gambling advertisers invested $738 million across digital, print and TV ads in 2022.
DraftKings, Flutter Entertainment, and MGM Resorts International were the top gambling advertisers in 2022, spending a combined total of $460 million.
Most countries forbid or have certain restrictions around the use of gambling advertising.
What Is Gambling Advertising?
Gambling advertising promotes various gambling activities offered by casinos, lotteries, bookmakers and other entities. These activities offer people the opportunity to place bets in the hopes of winning money, prizes, or, more recently, cryptocurrencies (Bitcoin, Ethereum, Litecoin etc. ).

Gambling advertising used to be associated only with sporting events, e.g. at stadiums and before or during events shown on TV, but now it is available across various channels, including:

Video advertising: Television, YouTube, and other video apps
Audio channels: Radio & podcast advertising
Newspapers
Print & digital publications
Out-of-home (OOH) and digital out-of-home (DOOH) advertising
Social media
In-app & in-game
The goal of gambling ads is to encourage people to try gambling or gamble more. The gambling ads promote various sportsbooks (aka bookmakers or bookies) such as DraftKings, Caesars, and FanDuel. These companies spend millions of dollars on marketing to get their message in front of a larger audience.

But there are also several different alternatives to sports gambling, including:
Online casinos and poker games
Politics betting
UFC and other combat sports betting
Virtual sports betting
eSports betting
The Global Gambling & Gambling Advertising Industries
The global gambling market reached a value of nearly $465 billion in 2020, having increased at a compound annual growth rate (CAGR) of 2.1% since 2015. The gambling market is expected to grow from $465 billion in 2020 to $674 billion in 2025 at a CAGR of 7.7%. The gambling market is expected to grow from $674 billion in 2025 to $895 billion in 2030 at a CAGR of 5.8%.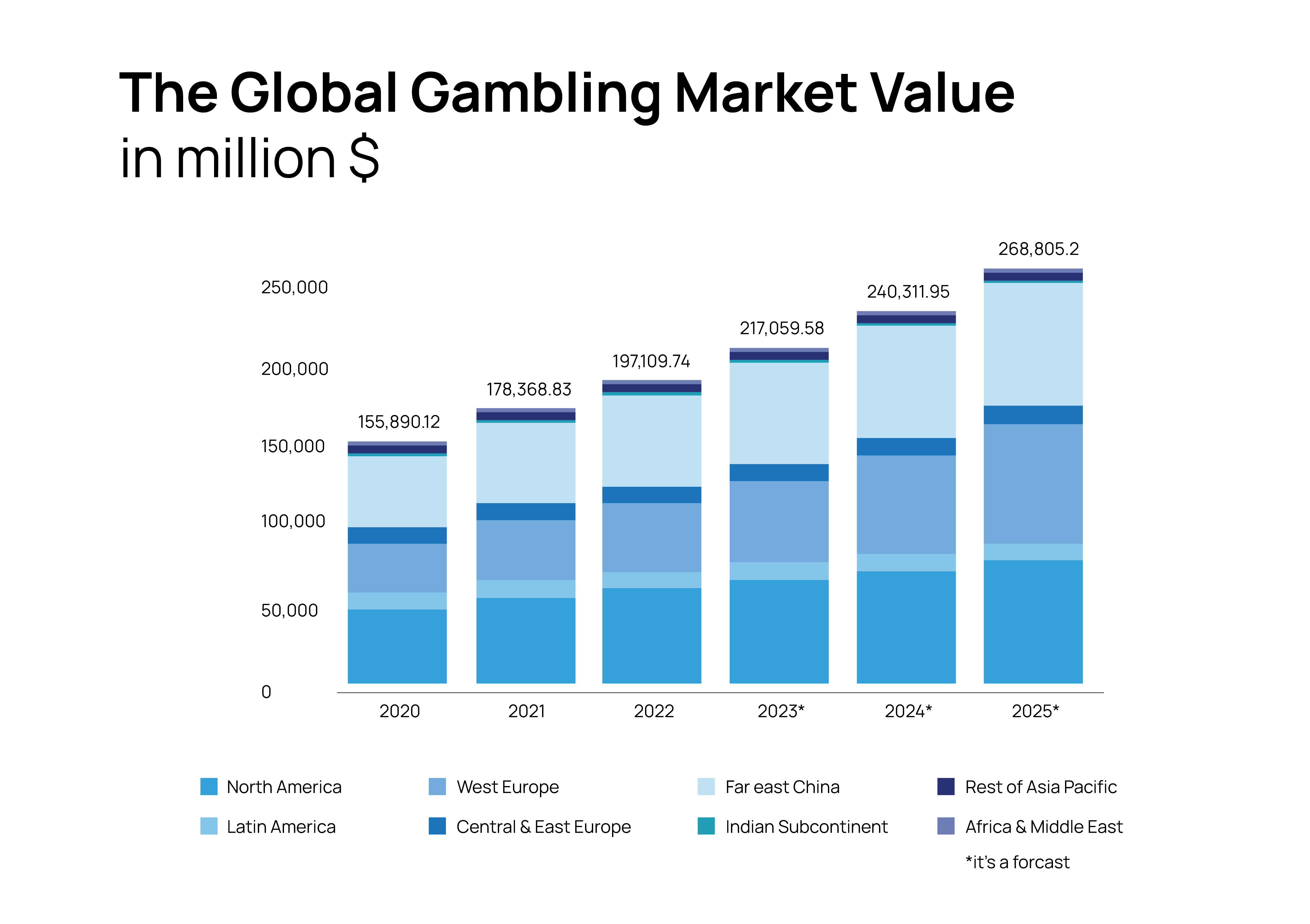 According to MediaRada's recent insights into Gambling Advertising in 2022, more than 440 gambling advertisers invested $738 million across digital, print and TV ads, which accounts for a 22% year-to-year increase.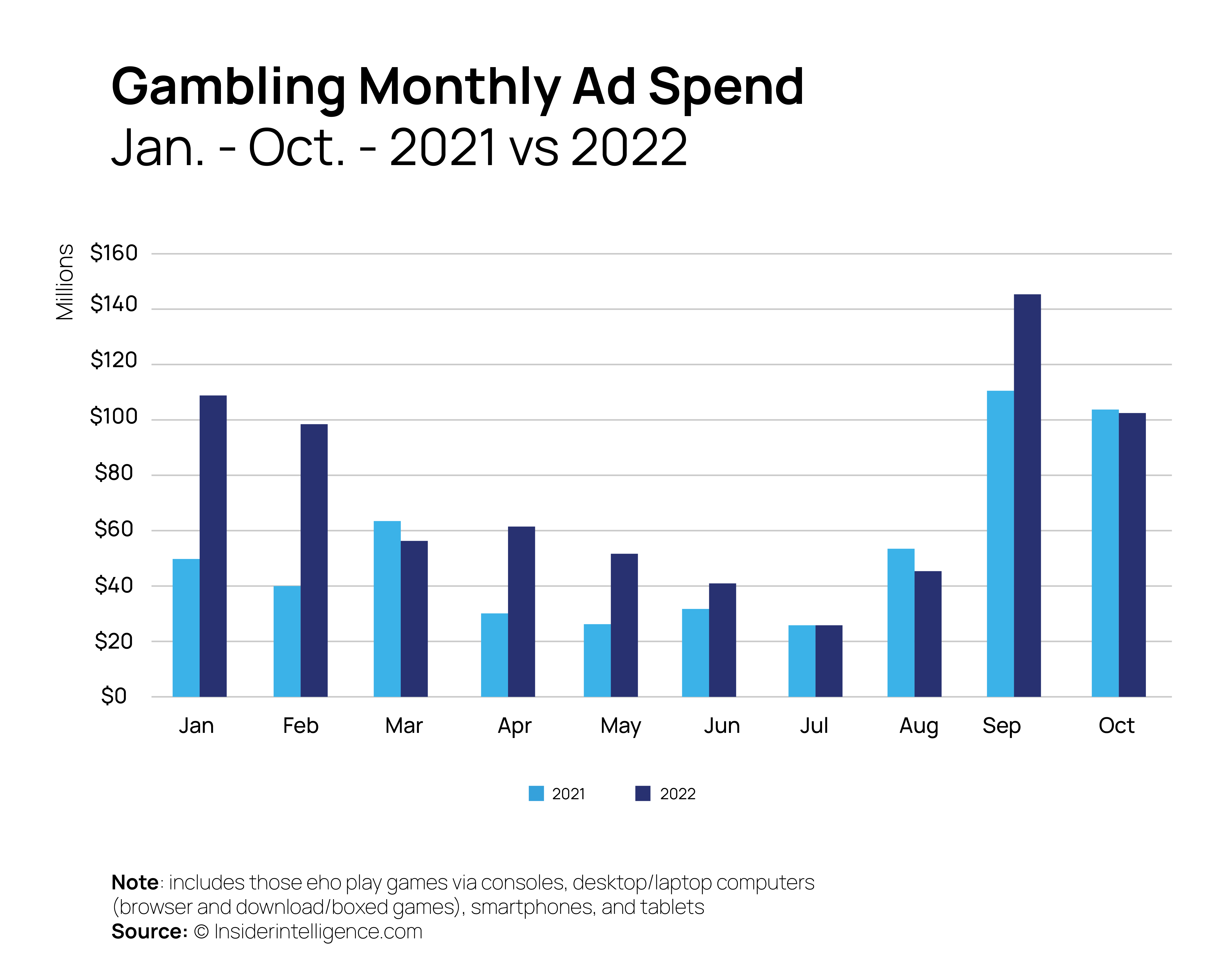 According to the American Gaming Association, the official revenue for American gambling companies (the nation's casinos and mobile gaming apps) for the first 11 months of 2022 exceeded the record set in 2021, accounting for $53.04 billion.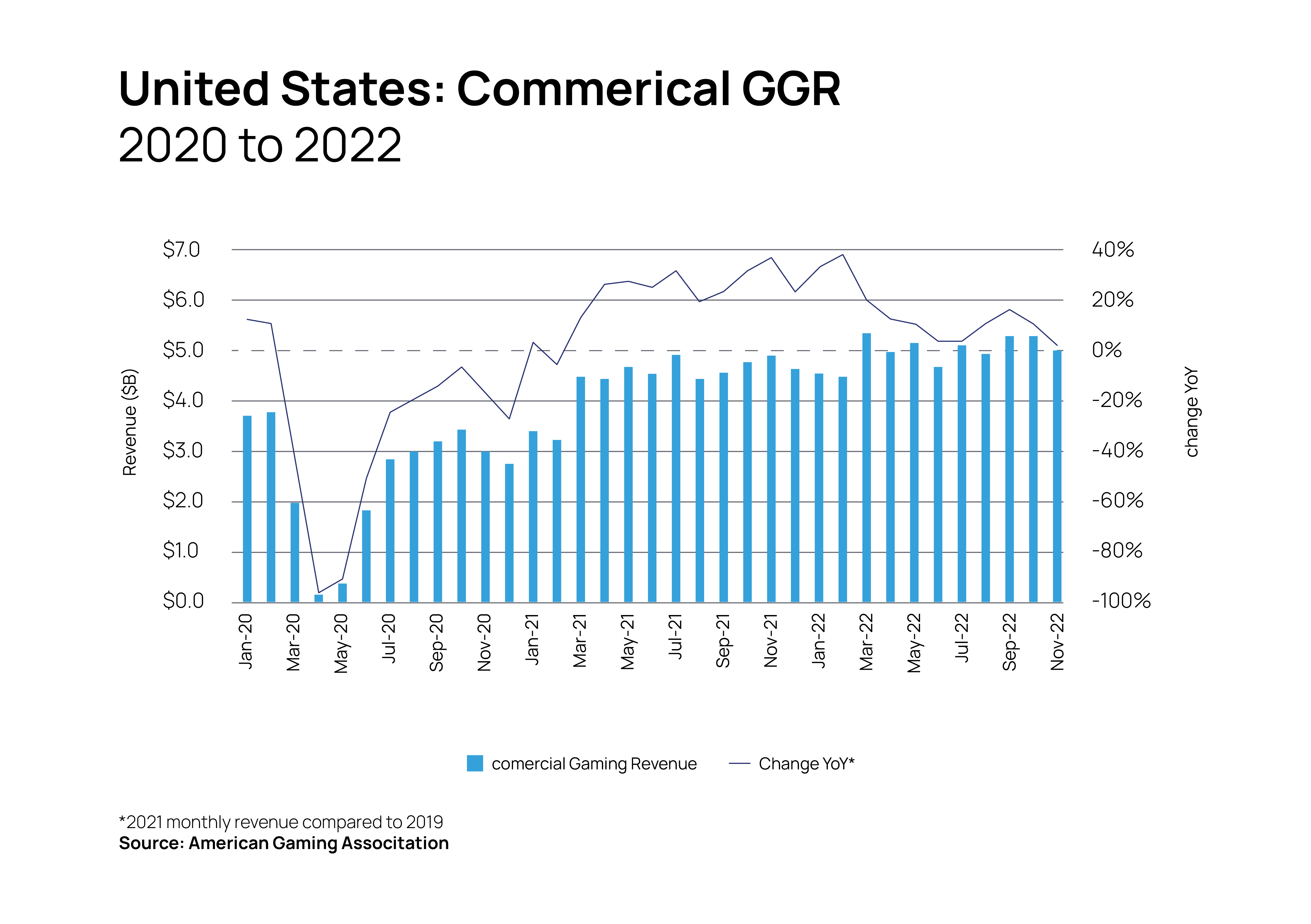 Global Online Gambling Market (2022 to 2028)
The global online gambling market size reached $79.8 billion in 2022, and is expected to grow steadily at the growth rate of 8.5% during 2023-2028 and reach US$133.9 Billion.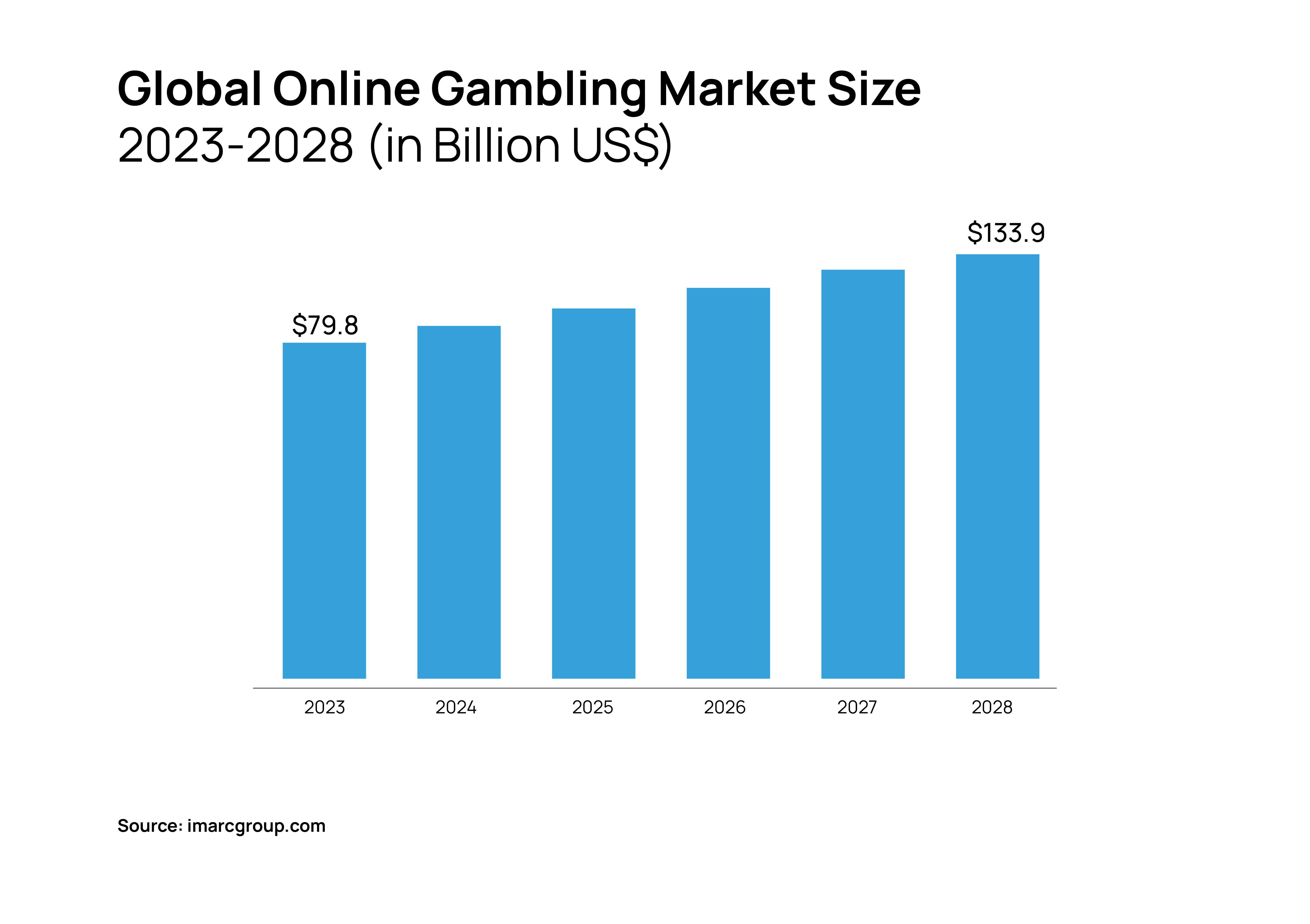 Key Factors Impacting the Recent Growth
The growth of online advertising has been spurred on by the following:
The smartphone era — improvements in Internet accessibility has impacted the growth of the online gambling market. More people are using mobile devices compared to desktop computers and laptops. In most countries, mobile users account for 80% of all users in the online gambling industry.
New technologies like blockchain, IoT & virtual reality — technological advancements have helped to maintain the transparency and anonymity in case of using cryptocurrencies for deposits and payouts in gambling and and virtual reality provided players with immersive experiences.
Online gambling laws — a lot of countries and regions in the last 5 years have loosened their restrictions regarding gambling by introducing gambling laws that are ethical and safe, rather than continuing to ban gambling.
The COVID-19 pandemic — the pandemic has led to an increased demand for online gambling as physical casinos were temporarily closed due to lockdown regulations.
The use of various channels — gambling advertising has spread to various digital advertising channels, which has led to the growth of gambling awareness and allowed gambling companies to reach new audiences.
Revenuelab.biz says that Australians spend the most on gambling, with approximately 80% of the population participating in various forms of gambling activities. People on average spend US$1,000 on gambling a year.

In Australia, gambling is quite common and considered a national problem. It's a highly regulated industry in Australia, but it's legal for people over the age of 18 to participate in gambling.

Top Gambling Advertisers in 2022
There are more than 400 gambling companies that invested in gambling advertising in 2022, however, DraftKings, Flutter Entertainment, and MGM Resorts International were the top advertisers.

The three companies combined spent more than $460 million on advertising.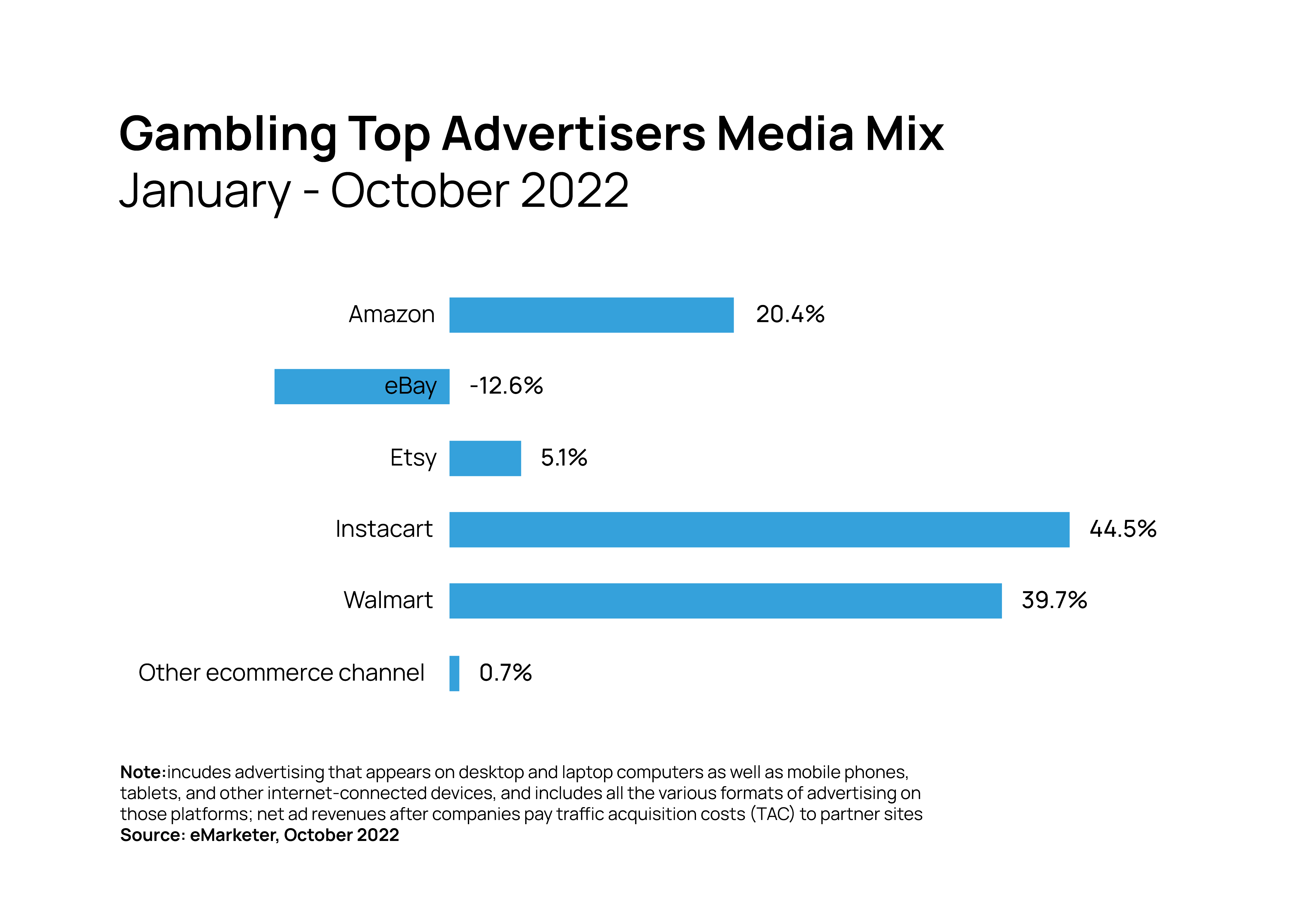 DraftKings
DraftKings spent 42% on digital advertising (social media, digital display and podcasts). 56% of the budget went to a mix of mobile, native, online video and OTT ad campaigns.

Most advertisers were rather cautious about spending advertising budgets after an increase during a Super Bowl, but DraftKings has been spending big.

DraftKings recently added an NFT element to their marketing strategy with a campaign featuring Kevin Hart that allows players to create weekly lineups based on NFTs of players they own.
Flutter Entertainment
Flutter Entertainment invested 95% of its budget on TV and the remaining 5% on display, podcast, social media, online video, OTT and mobile.
MGM
MGM (BetMGM) split its ad dollars between traditional and digital ad formats. The company spent 50% of their budget on digital advertising, 45% on TV and 5% on print.

The digital budget went on a mix of social media, display, and a mix of OTT (mobile, native, podcasts and online video).

How Do Gambling Companies Advertise Their Products?
Gambling companies use a variety of advertising mediums and channels to get the message across the market and reach their target audience.

Below are some examples of gambling advertising.

'It's Who You Play With' — William Hill TV ad
DraftKings — OOH Screens ad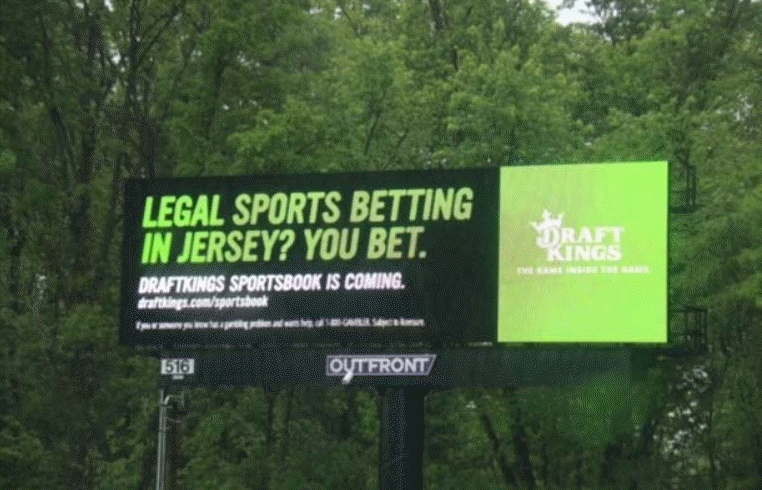 A DOOH Ad From MGM Resorts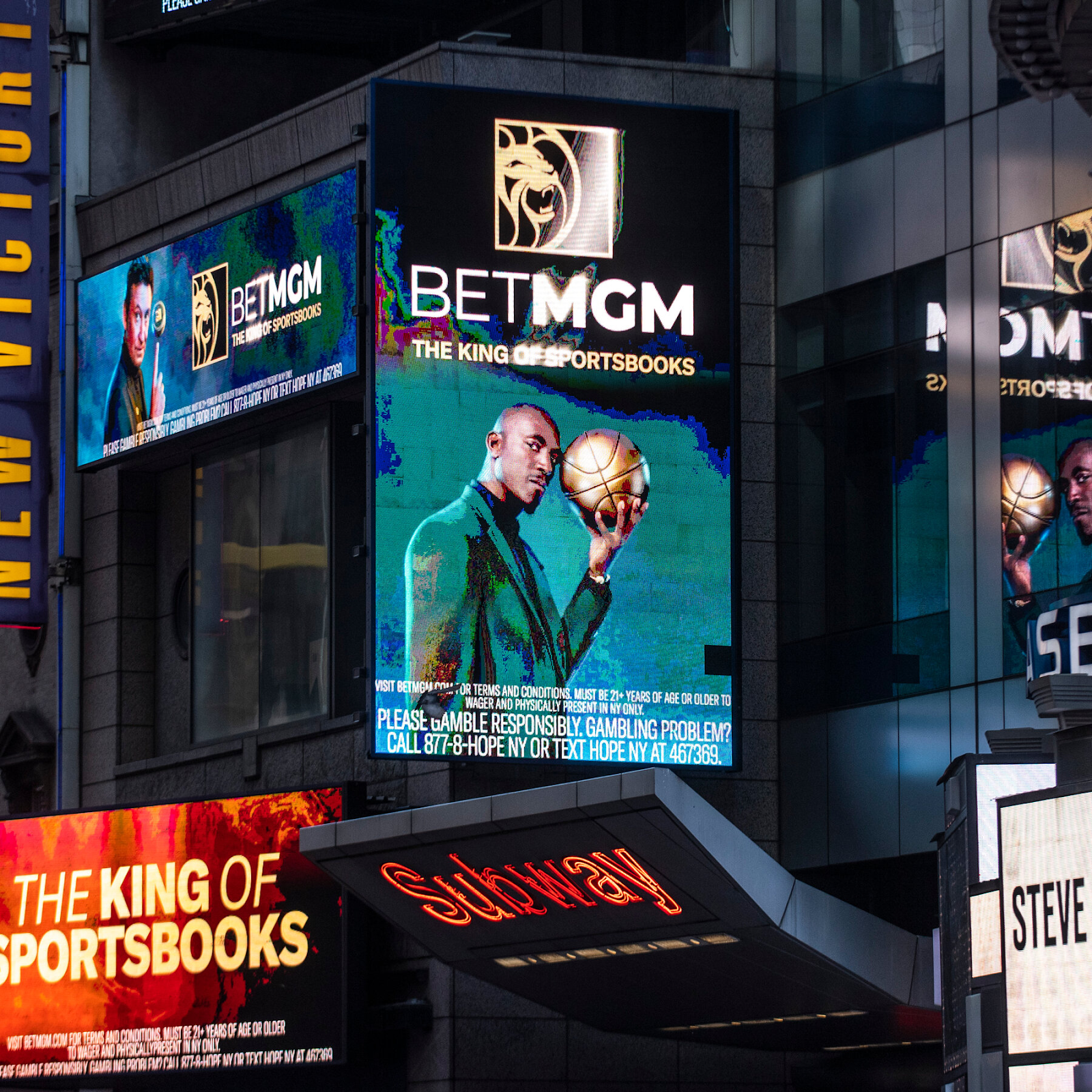 Gambling Ads in Facebook Feeds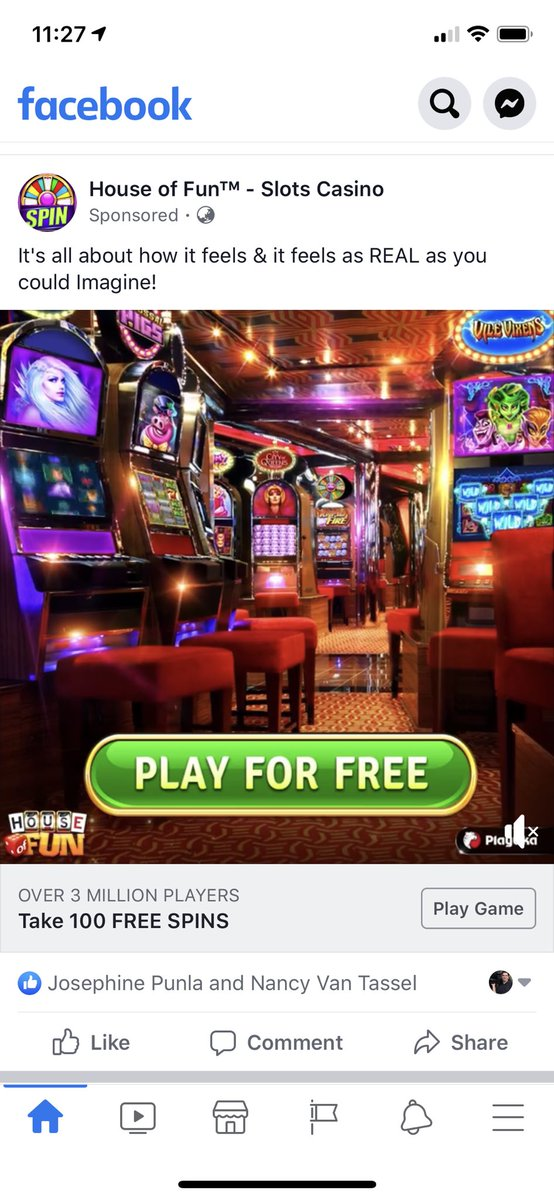 Examples of Gambling Ads on Facebook Reels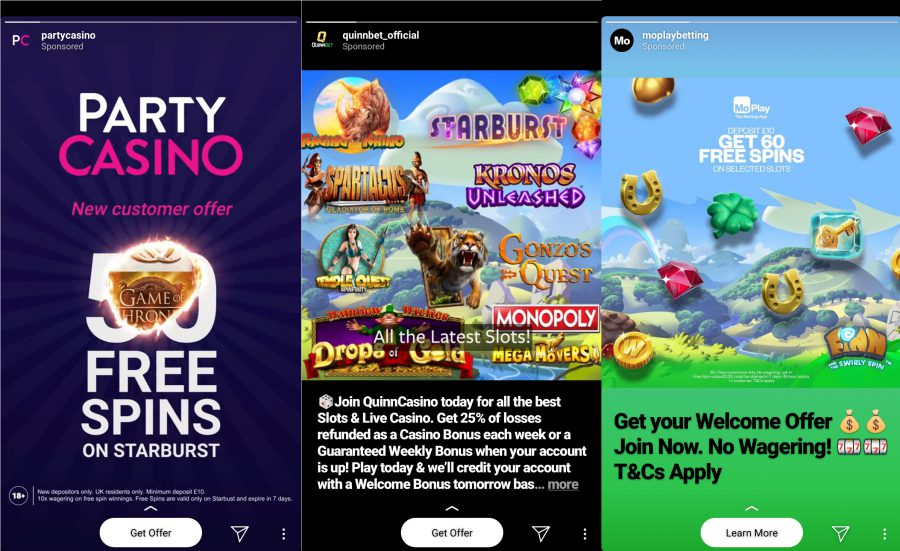 Laws and Regulations on Gambling Advertising
Below is an overview of the current gambling and gambling advertising laws and regulations in various parts of the world.
Europe
In Europe, many countries have legalized gambling businesses and advertising but still there are some legal and government restrictions.

The legislative regulation of gambling advertising in Europe can be divided into:

Permission of gambling advertising — gambling and gambling advertising are allowed with some restrictions.
Partial ban on gambling advertising — more stringent legislative requirements and criteria for people to be served with the gambling content.
Total ban on gambling advertising — no opportunity to offer gambling activities or advertising.
Partial Ban
Russia and Ukraine are two countries that have a partial ban on gambling advertising that requires ads to be shown between certain times of a day.

Scandinavia
In Norway and Sweden, gambling advertising is allowed but restricts targeting ads to minors.

Iceland and Finland also bans advertising aimed at minors, as well as using television and audiovisual services as a medium.

Denmark allows gambling advertising with the condition that the ads don't invite people to gamble or visit any gambling venue.


The Baltic Countries
Estonia partially bans gambling ads from containing any invitation to participate in gambling or visit gambling establishments.

Lithuania bans gambling advertising except for advertising the name, trademark and legal form of the gambling company. However, the advertising restrictions don't apply to lotteries.

Other European Countries
Belarus partially bans gambling advertising in TV between day-time hours, in educational institutions, healthcare, cultural, sports facilities, and mass media.

Poland has a partial ban on advertising with the restrictions set for betting, casinos, and gambling establishments. Advertising cylindrical games, card games, dice games and gambling machines is banned.

Germany partially bans gambling advertising on TV and on the Internet, but with one expectation — the authorities can grant permission to the operators of lotteries, sports and horserace betting to advertise on TV and on the Internet.

But in general, advertising of sports betting before and during live TV broadcasts of sporting events is prohibited.

The Czech Republic also partially bans advertising, which, in practice, means not offering or promoting gambling activities.

Slovakia has a partial ban on gambling advertising whereby companies can only advertise gambling activities within 200 meters of the gambling establishment.

In the Netherlands and Belgium, the partial ban limits gambling advertising between certain hours, i.e. 6 a.m. to 7 p.m. Outside of those hours, gambling advertising is allowed.

The UK has a liberal approach, as gambling advertising is legal and even allowed on TV since the introduction of the new Gambling Act in 2007. The only restriction concerns minors, as they should not be targeted by gambling ads.

In Ireland, gambling advertising is partially prohibited, which means that if lottery ads are published or posted, they are subject to be banned. There is also no specialized legislation so the gambling topic is governed by general regulations of consumer protection.

Total ban
Moldova completely bans gambling advertising.

Latvia has a general ban on gambling ads. It applies to advertising outside gambling establishments and is restricted to the advertising on the Internet. However, the country allows 13 licensed operators to offer gaming to players within the country.

The US
Gambling is legal under US federal law, but there are some significant restrictions in various states regarding different types of gambling, as each state is free to regulate or prohibit gambling and gambling advertising within its borders.

For instance, DraftKings and FanDuel can advertise in New York state, as they are perceived as fantasy leagues which are not considered to be gambling, but rather a game of skill.

There are some general advertising rules that gambling companies in the US must follow:

Advertising can not be targeted at minors and audiences under the age of 21 in sports wagering, gaming or related activities.
Ads should not include people listed as "sports pool participants" e.g. players, coaches, trainers, league employees or a person who holds a position of authority.
Ads shall not be false, deceptive or misleading.
Each ad must clearly state a problem-gambling hotline number.
However, there is one state in the US that allows casinos to advertise — Nevada.

Nevertheless, all advertising activities must be conducted in a manner that does not bring the gaming industry in Nevada into disrepute. This means casinos shall conduct their advertising and public-relation operations in accordance with dignity, good taste and inoffensiveness.

Asia and Oceania
Thailand
In Thailand, gambling is regulated by the gambling act that divides gambling into three categories:
Prohibits gambling.
Regulates lucky draws.
Covers types of gambling in which public participation is allowed along with advertising or promoting.
Japan
In Japan, the main forms of gambling are prohibited, but there is one exception which allows gambling activities regarding the land-based betting on horse races, bicycle races, motorcycle races and motorboat races.

Gambling advertising in Japan is prohibited except for passenger terminal facilities in airports and ports.

China
Gambling is illegal in China along with gambling advertising. But the approach of authorities to online gambling is changing, so in the future there is a chance that some laws will be adjusted.


Australia
In Australia, ads for betting products are not permitted during TV programs classified G or lower from 6am to 8.30am and from 4pm to 7pm, or in programs directed at children between 5am and 8.30 pm.